Why not read the cat
Children reading aloud to cats in an animal shelter: the end of March saw the start of this pilot programme in the Netherlands. The children improve their reading skills and the cats become (or remain) well socialised, which increases the animals' chances of being adopted.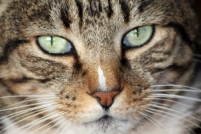 So it's a win-win situation. The pilot at Dierenbeschermingscentrum Amersfoort (DBCA), that city's society for prevention of cruelty to animals, follows in the footsteps of an initiative in the United States. The reading skills of many children were improved by reading aloud to cats. No one (except for the cat) is present to judge the children's reading level, and the children just plain enjoy it. The cats seem to profit as well. The rhythmic sound of reading aloud and the voices of the children both have a calming effect. When shelter cats have regular contact with people, and especially with children, they remain socialised. The animals are then able to adapt better to a new home situation, which improves the chance of a successful match.