Flamingo visits Texel
Since the beginning of February, a lesser flamingo has been spotted on the isle of Texel (The Netherlands). Two foresters made this surprising discovery when they were placing a webcam.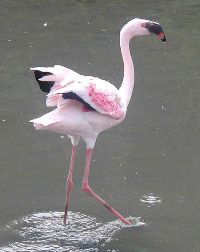 Lesser flamingo's originally only occur in West Africa. They usually don't come as far north as the Netherlands, though this is not the first time that they have. At the moment, lesser flamingo's are also spotted in Spain. According to the foresters, the flamingo has not escaped from the zoo, as it is doesn't have a ring, like all the zoo flamingo's. The flamingo is perfectly at ease in Petten. Petten is a nature reserve with salt water, lying on the landside of the dikes. The water here is full of prawns and shrimps, so it needn't be hungry. Fellow flamingo's have not yet been spotted. When this flamingo will want to mate, it will have to move elsewhere.